Our Services
Private Cremation
When you choose a Faithful Friends Private Cremation, your beloved pet will be cremated on their own - no other animal will be included. There will be a designated metal identification disc with your animal pre cremation. Immediately upon pick up of your beloved animal, this identification disc will be exclusive to your pet and will also be returned to you along with the personal delivery of your pet's cremains.
* Please note that if you are taking your little friend to your vet and wish Faithful Friends to be your after care provider, you need only inform the vet staff that you wish to use us and arrangements will be made. You are not required to use the vet's provider.
Witness Cremation
When you choose a Faithful Friends Witness Cremation, it consists of the same process as the Private Cremation. Your beloved pet will be cremated by themselves with no other animal and will be designated a metal identification disc as above. The difference between a Private and Witness Cremation is that you will be able to view your pet being placed into the cremation retort as well as being present for the initial start up of the cremation process. This can add peace of mind and closure to a pet owner.
Communal Cremation
When you choose a Faithful Friends Communal Cremation your beloved pet will be respectively cremated with other pets. You will not receive the cremains back but you will have the peace of mind that your pet's cremains will be spread on our flower covered fields to run free with their friends. Though your cremains are not returned, we offer a selection of memorial items and keepsakes you may wish to purchase to cherish your faithful friend's memory. Please see our Memorial Items page for our selection.
Cast Paw Print
Memorialize your pet with a lasting impression cast paw print. Just imagine, when you need to the most, you can reach out and touch your friend's paw ... forever. Each cast paw print is unique to every pet including "perfect imperfections". Each and every day ... memories can last forever!
We are pleased to offer a 10% discount to seniors.
We are proud to serve Edmonton and surrounding areas including Leduc, Beaumont, Sherwood Park, Fort Saskatchewan, St. Albert, Spruce Grove and Stony Plain. For service beyond these zones a surcharge will apply.
"In time's own space,
There must be some sweet pastured place ...
Where creeks sing on and tall trees grow,
Some paradise where horses go."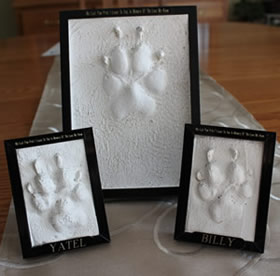 Click here for
pricing on all
our services